Dida Displays at Mego Meet
At last I am back home from my trip to Mego Meet and the long-awaited public debut of the Dida Displays. Of course, the original plan was to have a the whole line well represented at the Meet and to be taking orders right there
if not actually selling product. As it was, the samples I ordered did not arrive at my house until 2 days before I had to ship them to Wheeling in time for the show. So I was left scrambling to punch holes and install snaps in the display boxes and get everything jammed into boxes and at UPS.
Click here to see all the Dida Display pics from Mego Meet.
Then my wife and I flew to Washington DC for a Memorial Day weekend wedding. After the mad rush it was a very nice vacation spent with family. On Monday we then took a train to New York city and spent the week with a friend seeing the sights, relaxing and eating really well.
Of course during all of this vacationing I was pondering how I was going to get the displays ready on MegoMeet Friday. I was also still finishing playset artwork on my laptop and printing at Kinkos in Times Square! In fact, after the shuttle picked me up at 4:30 on Friday morning I had 2 1/2 hours to kill at JFK airport and ended up finishing the Baxter Building artwork which I then emailed to the Kinko's in Pittsburgh for printing and picked up in the rental car on the drive to Wheeling. I arrived at Noon to the Toy and Train Museum 5 minutes ahead of the UPS truck that delivered 5 boxes of Dida Display parts and I was off.
There was so much to do and I worked straight through for 10 hours. Allan at the Museum let me set up a small workshop in the back room and I set about finishing the holes punching and installing more snaps. This involved lots of heavy hammer banging and some cursing as the snaps have been giving me a lot of trouble. Folks came by from time to time and say "Hi" and marvel at the frenzy of activity. But after everything I'd been through to get these made and get them to the Meet at the last possible moment there was no stopping. Around 6 pm I actually felt like quitting and declaring failure, but a 20 minute meditation refreshed my spirits and I finally got the Batcave put together. Anthony ABMAC came in and helped me by making the crow's nest to the pirate ship. I had some scrap pieces of vinyl that I knew could be transformed into a basket, and Anthony did a great job of figuring that out.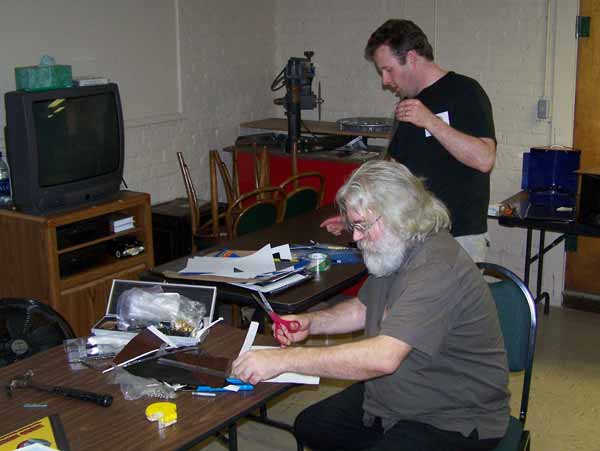 Everyone was very enthusiastic about the displays and were very supportive and encouraging. I definitely got a boost of energy to go forward with them and find a supplier who can do the job right. The prototypes and samples we've made are great, but adjustments need to be made to make sure they really work and hold up to use. The biggest problem was that the people I was working with couldn't punch the holes accurately---it requires a machine die that they couldn't handle. That's why I ended up canceling the Mego Museum Special Edition box---they were willing to make it, but I couldn't hand-punch that many parts correctly. So when I find someone who can do it all that will be back.
One treat for me was that Anthony Durso (The Toyroom) sent some of his playset art to me. It was great to see someone else's work in a Dida Dipslay panel. Here's his Captain Action set with Theressa's CA Custom.
Click here to see my pictures.

Unfortunately, I was so pre-occupied with making these that I didn't take very many pictures! I had the Monster set and the Knights castle set up but don't have any shots here. When it all gets back to me in the mail I'll do some better pictures.
It was wonderful to get in person feedback on these, listen to ideas andsuggestions. I had a great time meeting new people and spending time with friends I met last year.
Labels: Mego Meet, Mego Museum Displaysets