A Dida Review from the good folks at We Are Small!
I've been a fan and booster of
Jason deWitt
at
wearesmall
for 10 years now, dating back to the earliest days at the
Mego Museum
. He's an artistic force of nature who has created an amazing world of original characters using Megos. He has almost no use for the original licensed identities of the dolls (with the exception of the
Notorious Batman Brothers
, but I wouldn't expect DC to be claiming them any time soon). So I was a bit surprised and very honored when Jason ordered a Space Command set and populated it with
Captain Kirk, Mr. Spock and a host of Romulans
! Here's Jason's
review
:
06/25/08 ::: Dida Displays and EMCE Star Trek
UPS usually just drops stuff over our front fence in a plastic bag if we are not home, and that's how I found my Dida Display Starship Bridge Playset this week! I pre-ordered the Bridge as soon as I could, and I have been buying and saving one of each EMCE Star Trek figure in anticipation of the playset, imagining a great future day when I would open them all together and become eight years old again. Somehow, I managed to keep from busting the Klingon open... until today!
The Dida playset is a jewel. The design is so simple that no instruction sheet was needed, and the materials are perfect. The original Mego sets were made with cardboard akin to that found on the back of a pad of paper, and sagging and bending were the norm. Dida sets are thick, sturdy, and built for warp speed. Gone are the cheap painted walls of the original Mego Enterprise set, now the crew has awesome 3D computer consoles on every wall with buttons and dials to operate! Mr. Spock would be deeply thrilled about it if he wasn't against that kind of thing.
My favorite feature in the set has to be the sliding red door. Again, going way beyond what Mego did, this door is the perfect red plastic and it slides in channels that are riveted together. It even sounds like the Bridge door when you slide it open.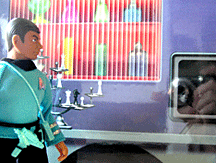 The artwork that covers the set is luminous and vibrant, and since Scott has designed a playset that can be reversed we are treated to The Engine Room and Sick Bay sets for the first time in toy history. Each backdrop is stunning, and I hope that Scott will offer artwork sets to slip into all the groovy plastic sleeves that make up the computer monitors and Main Viewing Screen.
I'm impressed with the whole playset. Scott's thoughtful designs and awesome art are enough, but I think this set's strongest appeal is the way it combines nostalgia with innovation. It reminds me of how great Mego's old USS Enterprise set was when I was a kid, while at the same time it photon-torpedoes that set away. Get one today, and make your toys happy! (Niffty capt. chair and action figures in pics not included)
And in case you haven't heard, the good people at EMCE toys are making Megos again! These are faithful, super-cool reproductions of the classic action figures from Star Trek, Planet of the Apes, and with any luck LOTS of other lines! All of these fine toys can be opened and actually played with by hand, and that's a proven fact! Buy a bunch now before another Dark Age sets in...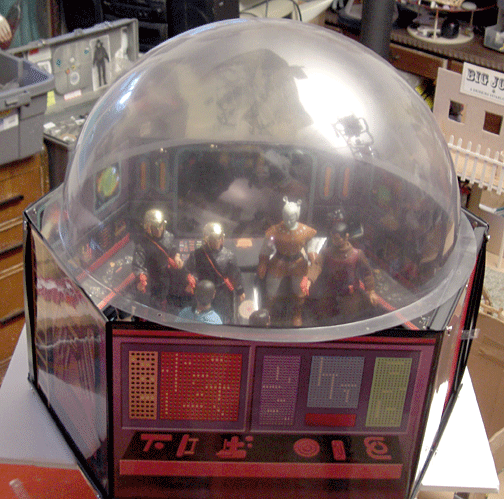 Oh, and another thing... I have added an 18 inch clear plastic half-dome to my Dida Bridge, because you know how corrosive and debilitating that space dust can be. I just happened to have the dome kicking around here as part of an old toy space odyssey feature we used to run, and as you can see it fits like a smooth orbicular glove. I got mine here!
--------------------------------------
Check out Jason's award-winning
WEE WESTERNS!
Labels: reviews, space command, star trek